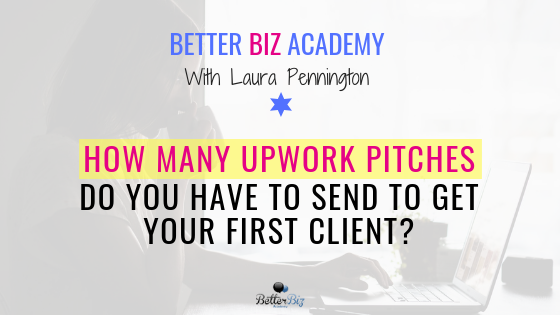 You've finally been accepted to Upwork and you're trying to figure out exactly how many pitches you need to send to land your first client.
The answer?
It depends.
I've seen people  who have had to send anywhere from 5 pitches to more than 50 pitches before they land their very first gig.
As freelancers, we hear the word "no" a lot! Yet, I often meet new freelancers who have completely unrealistic expectations. They think if they spend an hour sending pitches, they should get a response. But in the past few years, Upwork has gotten more competitive, especially in the writing category.
Don't take it personally if you don't get a response to every pitch that you send. But, if you have sent more than 50 pitches on Upwork and have not received a response from anyone who is interested in working with you — it's time to take a step back and review your pitches and samples.
In the video below, I'll give you some tips on how to stand out from the crowd when you're pitching on Upwork and what to do if you aren't getting any results…and I'll share with you how many pitches I had to send before I got my first gig on Upwork!